We have the most tear-jerking, cringe-worthy and gut-busting moments (and reactions) from the 87th Academy Awards.
The 87th Academy Awards was a night to remember for many reasons. There were beautiful moments, hilarious moments, and downright awkward moments. Check out how the social sphere reacted to the most memorable moments from the show.
The Fashion Moments
There was no shade to the style at the Oscars last night.
Shug Avery is 71. SEVENTY ONE! Chew on that. pic.twitter.com/hqOfn5Rtug

— Jillian (@jillianbowe) February 23, 2015
how to get away with yummy plummy lipstick pic.twitter.com/4RTqJ5mOoM

— dodai (@dodaistewart) February 23, 2015
The On-Stage Moments
Winning an Oscar will not save you from Twitter shade.
Rare photo of Jesus blessing Patricia Arquette during her acceptance speech. pic.twitter.com/C4nr8Pp9Az

— Tim Lyzen (@TLyzen) February 23, 2015
The Off-Stage Moments
There were teary eyes and side-eyes in the audience.
octavia lettin the black folks at home know that even though she's there, she knows whats up pic.twitter.com/GNZFN7vikV

— Tracy Clayton (@brokeymcpoverty) February 23, 2015
I can't !!!! RT @DirtyFlacko_: When you take your white friend with you to Thanksgiving and he taste the food pic.twitter.com/79NuUlnUia

— ProfB (@AntheaButler) February 23, 2015
When your friend is about to get a whooping from his mom, so you try to speak up for him. #Oscars2015 pic.twitter.com/9Ny3dZH10m

— iamsuede™ (@iamsuede) February 23, 2015
The Uncomfortable Moments
Remember that time when no people of color were nominated for an Oscar? Or that time Terrence Howard cried for apparently no reason?
Don't forget your #OscarsSoWhite bingo card while watching tonight's #Oscars2015: pic.twitter.com/APShWCqFSZ

— Bipartisan Report (@Bipartisanism) February 23, 2015
Terrence Howard has strong feelings about the Imitation Game #Oscars #watchwithUs https://t.co/tsxlqrKgvS

— Us Weekly (@usweekly) February 23, 2015
This is how Cookie felt about #TerrenceHoward's on stage #Oscars performance. pic.twitter.com/0KjoY8tCwk

— Janet Mock (@janetmock) February 23, 2015
David Oyelowo's face sums up the entire night pretty well: (Awkwaaaaaaaaard!)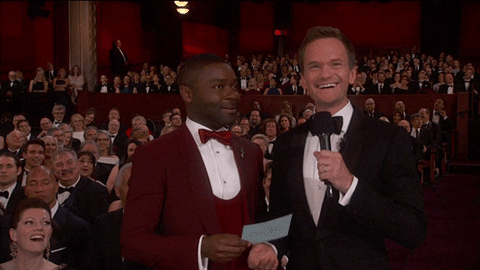 sign up for our newsletter
Get The Essence Newsletter and Special Offers delivered to your inbox!